Quality moving at an unbelievable price
At FlatRate Moving, we take the moving process seriously so you don't have to. We are a detail-oriented moving company that will plan your move from point A to Z. From the initial sales consultation to arriving at your new home, our goal is to give you a pleasant and stress-free experience. We aim to give you the perfect move whether you are moving for the first time or this is your fifth time relocating.
Your stress-free moving in 4 Steps
1. Get free quote
2. Get free quote
3. Manage your move
4. Track your move
Get free quote
To get you started, one of our Moving Specialists will take the details of your move by phone or at an in-home appointment. This allows us to understand what you are moving and give you a guaranteed price for your move.
Get free quote
Every move is different. That's why we follow up with a custom move plan created specifically for you and your needs. This plan makes everything clear to our planning & moving departments and ensures the process is as safe and efficient as possible.
Manage your move
Need to make changes to your move plan the day before your move? No Problem! My FlatRate allows you to edit your move plan and create a photo inventory of your items on both desktop and mobile. We simply ask that you take 1-2 minutes to confirm your move details on My FlatRate up to one day before the move.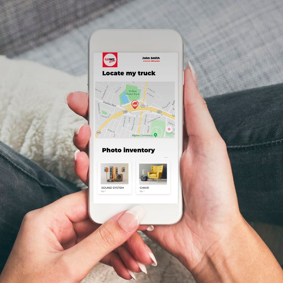 Track your move
On your move day, track your truck and message your Moving Specialist in real-time. My FlatRate makes it easy for you to reach out and monitor your moving trucks so you can stay connected on the big day.
Stress free moving in 4 simple steps
1
Enter your addresses
Don't worry it'll only take a second – we've got autocomplete 😉
2
Select your home size
We'll do the heavy lifting by autofilling the inventory. Add or remove items for an instant custom inventory list.
3
We'll send you a move plan
Created specifically for you. This makes sure every detail is clear and ensures your move goes perfectly.
4
We'll do the rest
Sit back, relax, we've got everything covered, but feel free track your truck and more with the MyFlatRate App.
Always included in your move
FlatRate Moving revolutionized the moving industry by introducing a guaranteed, all-inclusive, one-price move. Some services that we always offer customers at no extra charge include:
Packing and wrapping all furniture
Couches & Chairs – Wrapped in blankets & shrink wrap.
Tables – Disassembled & Wrapped in blankets.
Mattresses – Wrapped and packed in special boxes
Armoire – Disassemble & double wrapped in blankets and cardboard crating the glass
Items packed for you
Lamps – Packed in lamp box.
Hanging Clothes – Packed in wardrobe box.
Electronics – Wrapped and packed in cardboard box.
Flat-screen TVs – Wrapped and packed in plasma box.
Computers – Wrapped and packed in cardboard box.
Small Mirrors – Wrapped and packed in cardboard box.
Paintings – Wrapped and packed in cardboard box.
Small Sculptures – Wrapped and packed in cardboard picture crate.
Glass/Marble – Items that contain glass or marble up to 4-feet are cardboard crated.
Floor, corner, and hallway protection
Corners– We use protection on corners in both your departing location, and your new home so nothing will get scuffed.
Hallways – Before moving items in and out of your home we apply protection to the walls to prevent any damage.
Floors – On moving day, we lay down masonite on arrival to protect floors from becoming scraped
All labor and travel expense included
With FlatRate labor & travel expenses are included in the price, freeing you from surprise costs during your move. The cost for moving labor is included into the price of your custom move plan as well as any travel related expenses such as tickets, tolls & fuel.
Moving services we offer
Local Moving
With 27 years of experience helping customers with local moves, we are experts at moving you around your city. We have moved in every type of building and have experience moving various types of items and belongings from boxes to grand pianos.
Office Moving
FlatRate Moving can move your office overnight and have you fully set up by the time your office reopens.
Moving Into Storage
The team of experts at FlatRate Moving offers self-storage and full-service storage. We have a variety of room sizes and welcome short- and long-term storage. All rooms are private, clean, and safe.
Long Distance Movers
When moving across the country we have various options for you to choose from. We have weekly shuttles, express trips, and can also guarantee the delivery date. Our long-distance movers use high quality packing materials to keep your items intact for the journey.
Military Relocation
We are certified movers of the United States military. Every year we are honored to relocate military families across the United States of America.
Furniture Moving
For high-end or antique furniture, we have special moving teams to help you transport your items safely using our custom crating services.
International
We are a trusted global relocation company. Our team is well-versed with international customs and regulations. With an office in London and 160 agents across the globe, we have a true global network to move you around the world to your next destination.
B2B & Government
FlatRate Moving is a trusted mover of United States government agencies, the United Nations, and countless businesses across the country and around the world.
Elite White Glove
Moving doesn't have to be a loud and stressful affair. We have specialized teams experienced in transporting priceless objects who can swiftly complete your move with as little noise and inconvenience to you as possible.
Our protection for your
peace of mind.
Special Packing Boxes

: Lamps, flatscreen TVs, Bikes, all have their special boxes

Glassware

: We have perfected packing of all glasses & plates. Each have their separate box and procedure to maximize protection.

Furniture

: We wrap in blankets and secure with tape and shrink-wrap as necessary.

Long Distance

: Double wrapping of all furniture for extra protection for longer trip

Into Storage

: Wrapping of all furniture & shrink wrapping for dust protection

Floor & Wall Protection

: We use maisonite in every move to protect floor and use corner & wall protection to make sure you building will be in the same condition after your move

Art, Antiques & High End Furniture

: We build custom wood crates specific to the dimensions of your items for the highest level of protection"
Show More
Manage Your Move Wherever and Whenever with FlatRate Moving
FlatRate Moving is here to assist with any type of move you may have. Contact us online or call us at (866) 739-7648 to schedule your move and ask any questions you may have about the process. Once your move is booked, use our FlatRate Moving app and online portal to stay informed and in touch with our team before, during, and after your move!
Track Your Truck
Review Your Mover
Photograph Your Inventory
Retrieve Items From Storage
Try the FlatRate app available on
Reviews
M.C.
New York • August 10, 2023
★★★★★
Great moving experience. The office was communicative and transparent. The move team was on-time, respectful, careful, and fast.
MG
New York • August 8, 2023
★★★★★
As most people know, moving is one of life's most stressful experiences. I've moved multiple times between NY and NJ over the past 15 years and always used FlatRate. On…
Got questions? We've got answers.
Can I choose a day within the delivery window that works best for me to receive my delivery?
Unfortunately, you (or someone you assign) must be available to receive delivery…
How long does it generally take for my items to arrive?
With our express shuttles we can move from NYC to FL in 5 days and NYC to CA in 10 days. Most of our shipments are between 7 – 14 days.
What happens if you deliver outside of my delivery window?
We try our best to deliver your items within the given window. In the event the window is no longer possible, our dispatcher will contact you ahead of time.